The API Evangelist Blog - 2010
This blog is dedicated to understanding the world of APIs and exploring the technology, business, and politics of APIs.
---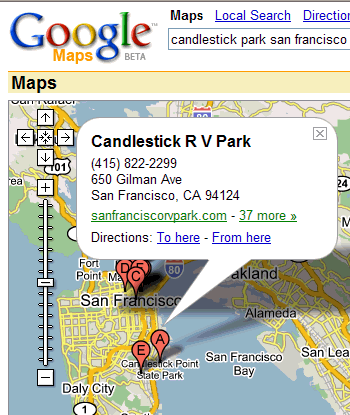 12 December 2010
Google Maps API provides mapping, satellite and other geographical data. The system allows overlaying of dynamic data on top of existing maps and photos. The Google Maps API provides a RESTful interface with authentication via digital signatures using a cryptographic key. The web service provides a complete set of methods accessing maps, satellite, and related local search data It provides a wide range of language kits including Flash, JavaScript and code for manipulating in C#, Java and Python. Building Blocks Technology RESTful API Documentation / Tools Dashboard Documentation SDK & Code Libraries Terms and Conditions Case Studies Articles Change Log Support / Management FAQ Blog Community Forum Featured Apps Developer API Registration Featured Apps Partner Featured Apps
---
11 December 2010
Any building block you are using to deliver your API to developers, such as blog or forum should have metrics attached to it. You should be collecting any data you can on activity in your API community and reporting on it. I received a platform update from Facebook developer community, with the following stats: Bugzilla activity for the past seven days: 117 new bugs were reported 3 bugs were reproducible and accepted (after duplicates removed) 19 bugs were fixed (18 previously reported bugs and 1 new bug) As of today, there are 4,032 open bugs in Bugzilla Developer Forum activity for the past seven days: 557 new topics were created 377 new topics received at least one reply in the past week Of those, 152 were replied to by an admin Of those, 187 were replied to by a moderator These are great examples of how to report on metrics that give good insights into the Facebook developer community...
---
10 December 2010
Foursquare released version 2.0 of its API today, after a year of development on the update. The API provides the following upgrades: OAuth 2.0 Authentication User Badges User Venue History Bundled Request Foursquare also dropped XML support, which has been a common move by API providers lately. JSON is fast becoming the preferred format of API providers and developers. Foursquare didn't deliver everything people were asking for, but version 2.0 does provide some important architectural features that show the API is maturing and ready for the next round of growth.
---
10 December 2010
Infochimps provides API access to large data sets including Twitter and census data. Its system also provides business intelligence on much of this data, including a Twitter influence ranking. The Infochimps API delivers a RESTful API with a basic authentication using an application key. It provides a wide range of language kits including Ruby, Python, PHP and Command Line. Building Blocks Technology RESTful API Documentation / Tools Dashboard Quick Start Documentation SDK & Code Libraries Pricing Support / Management FAQ Community Forum Ideas Developer API Registration Account Information Ideas Partner Partner Showcase Media Showcase
---
09 December 2010
The Glue API provides integration with the objects, people, and interactions available on the entertainment social network GetGlue. The Glue API delivers a RESTful API using OAuth for authentication The web service provides a complete set of methods for deploying and managing all objects on the social network. It does not provide any language specific development kits. Building Blocks Technology RESTful API OAuth Documentation / Tools Documentation Authentication Overview Terms and Conditions Community Forum
---
09 December 2010
Amazon Web Services has launched mobile software development kits (SDK) for Google's Android and Apple's iOS operating systems (iPhones, iPads, and the iPod Touch). The AWS SDK for Android and the AWS SDK for iOS provide developers access to the following APIs: Amazon S3 Amazon SimpleDB Amazon SQS Amazon SNS The Software Development Kits contain libraries, full documentation and sample code and are available for download on GitHub.
---
09 December 2010
Evernote is a text, voice and image note-taking software. A software as a service , Evernote provides web-based, desktop and mobile clients for accessing the service. The Evernote API is delivered using its own proprietary protocol called Evernote Data Access and Management (EDAM) using OAuth for authentication for web applications. The web service provides a Mac, Windows, and mobile specific tool-kits to integrate with the platform. Building Blocks Technology Proprietary API Documentation / Tools Overview Documentation SDK & Code Libraries Terms and Conditions Branding Buttons Mac Windows Mobile Support / Management Blog Community Forum Marketplace Developer API Registration Account Information Marketplace Partner Affiliate Program Marketplace
---
02 December 2010
Contests are becoming a popular way for API community managers to bring attention to their APIs. Giving away cash and prizes is a quick way to get developers understanding your API and to get press coverage as well. myGengo, a translation software as a service (SaaS), has cooked up a contest offering up to $30K in cash and rewards to encourage development of specific plugins that use the myGengo API. myGengo provides a list of popular CMS, SNS, E-Commerce, forums, browser plugins, and SaaS platforms for developers to choose from. You can request adding a new framework or platform if you wish. In addition to increasing public and developer awareness of the myGengo AP platform, the company is getting a full suite of code libraries and plugs for all major platforms on a fixed budget of 30K...
---
28 November 2010
As the Mimeo Connect Cloud Print API Evangelist, I get asked why I would be an evangelist for technology in a dying industry. Print and Publishing. My primary argument is: Through new technology such as cloud computing, social media, and mobile the print and publishing industry will be redefined. We won't even recognize it as the old beast. One example of this is Shapeways. Shapeways turns 3D designs and drawings to tangible products through 3D printing. You can choose from their pre-defined creators to build proven products, partner with other designers to create a product or upload your own designs to the Shapeways platform. Shapeways will check your 3D model that you upload to make sure it can be printed properly before sending to their production facility...
---
22 November 2010
I spend a lot of time thinking about new ways to print as the Mimeo Connect Cloud Print API Evangelist. During this time I see a common pattern; that print can create more meaningful, physical aspects of our online lives. We create volumes of data through our social streams, online files, emails and other forms data in our daily online lives. Often times the photos and discussions become less valuable because they are so easy to create, so we lose interest in creating organizing photos, emails or other files. This is where I see print being able to be reborn in creating physical, tangible, and more valuable snapshots of our online lives. I talked about fotobooks which allows you to print out photo books created from your Facebook profile...
---
19 November 2010
It is not always easy to get up and running using a new API. As a developer you face all kinds of challenges before integration, like finding and making sense of documentation and authentication and setting up code samples. Sometimes it can take several attempts before you are actually able to understand how an API operates and begin using it. And often times this can mean not adopting an API at all, because you just don't have the time to spend learning about it. Apigee released an API console last week that allows you to easily explore eight top APIs: Twitter Facebook Foursquare LinkedIn SimpleGeo Paypal Soundcloud Twilio Using the console you can select an API for exploration...
---
19 November 2010
Many APIs deliver the same type of data like city, country or other factual data. Other APIs deliver similar functionality like geo-location and currency conversions. The opportunity to develop Universal APIs or Aggregated APIs that bring together common web services into a single source is growing. One example of API aggregation is the Deltacloud which provide aggregated access to multiple cloud computing platforms such as Rackspace and Amazon EC2 via a single web service. Aggregation of APIs opens up opportunities to provide redundancy, deliver caching and other ways of improve API availability and performance. Aggregators will eventually commoditize certain API services such as geo-location, IP address look-up, storage, and computing and will create markets for services such as Amazon EC2 Spot Instances...
---
17 November 2010
Deltacloud provides aggregated access to multiple cloud computing platforms in a single web service. Deltacloud currently supports seven major cloud computing platforms including Rackspace and Amazon EC2. The Deltacloud API delivers a RESTful API using HTTP Authentication. The web service provides access to hardware profiles, realms, images, and instances. It provides a Ruby client, but no other language kits. Building Blocks: Overview Post-Install REST API Drivers Framework Ruby Client Image Builder The Deltacloud API is free and open source and is available under the LGPL and GPL and licenses. The Deltacloud API, along with its documentation, is available for download, and you can contribute and participate on the wiki...
---
13 November 2010
Peter Gruenbaum of SDK Bridge shared an article in the company's November newsletter that resonated with some of the work I've been doing recently -- creating API documentation for the Mimeo Connect REST Print API. The article is titled A Coder's Guide to Writing API Documentation and appeared in MSDN Magazine. Gruenbaum says that writing good API documentation requires the four components: Overview: Explaining what advantages developers have in using the platform, and in some cases, providing an architectural description of the platform. Getting started: Helping the developer get started, in the form of step-by-step tutorials or simpler walkthroughs. Sample code: Providing well-commented code samples that developers can build on...
---
09 November 2010
I have launched a new site called API Evangelist. I have been operating in stealth mode because I'm not 100% done with all the API Ecosystem building block pages. I've had a couple people ask if I'm a perfectionist, and why don't I just launch. So here we go. My goal behind API Evangelist. is to go beyond just the technology of APIs or being a directory of APIs like ProgrammableWeb is. I want to focus on the business of APIs, which is an area I feel is neglected in over 75% of APIS, even the successful ones. API Evangelist reflects my research, and I'm looking to provide the following types of posts: Analysis Building Blocks News Review Services My goal is to monitor how the leading API providers are delivering their APIs to the world and managing their community...
---
09 November 2010
I'm going through the my list of existing and potential self-publishing and print-on-demand applications. First on my list is the fotobooks the Facebook social print application. Its a pretty straightforward app allowing you to organize photos from your Facebook albums into small photo books. With 2 clicks you can have the application installed in your Facebook profile: Click Getting Started from fotobooks home page Allow the applications request for permissions The application is now installed and you can assemble and order a fotobook in 7 steps: Click create new book Select cover design, and give book a title Drag photos from albums onto 19 pages of your fotobook Preview your fotobook Enter order quantity and delivery Enter shipping and billing information Pay $5...
---
07 November 2010
I attended Mashery's Business of APIs Conference in San Francisco on Thursday. The event was kicked off with a complete history of APIs from Oren Michels the CEO of Mashery. Michels took us from pre-Internet examples of APIs through eBay pioneering in the space, the mashup explosion and to present day. Then Mike Hart, Director of Engineering at Netflix, gave a talk on the evolution of its API strategy from crowd-sourced innovation to its API enabling it to deliver Netflix on 200 individual devices. APis definitely played a part in Netflix out-maneuvering Blockbuster in the online movie space. After Hart we heard from Danny Boice, from College Board who talked about his challenges around internally selling an API strategy and ultimately building a successful API...
---
07 November 2010
Applications are being built around APIs at an ever-increasing pace. Developers put a lot of trust in these service providers, and we depend on them to provide a certain quality of service. As a developer, you should build in error handling to deal with service outages properly. When deciding to use an API you might want to look at a service that monitors the availability of Public APIs called API Status. API Status monitors almost 50 top APIS and provide information on whether the API is: Operating Normally Experiencing Performance Issues Having a Service Disruption The real-time status report for Public APIs is provided by WatchMouse. WatchMouse provides online monitoring services and has an API as well...
---
07 November 2010
Google released some updates to its API ecosystem the other day with a new release of Google Custom Search API. Google also rewrote a bunch of API documentation and more importantly released an API console for managing your Google APIs. I can't tell you how many Google APIs there are, let alone how many of them I use for personal or business. I think Google is having trouble keep track of the API sprawl itself, and is moving to provide its users with tools to manage their API usage confidently. The Google API Console allows you to create API Projects and activate different Google APIs underneath these projects. Within a project you can: Activate APIs - Select which APIs are used within a project...
---
31 October 2010
Do you have a cool application built on top of your API? (Hopefully you do!) I'm sure there are some amazing developers who have worked hard on developing applications that make use of your API. They have seen the value your API delivers and built an application that extends that value to their users. An application showcase could be an important building block of your API community. An application showcase can provide an great way to reward your developers with exposure. It also will make them feel like an important part of your community. This is a great way to encourage their participation in other areas of your API ecosystem. An application showcase also can inspire new developers looking for ideas of how they can use your API...
---
29 October 2010
Amazon S3 is infrastructure service that provides virtualized storage on demand with pay as you go pricing. Amazon S3 began as a web service and later developed a web-based interface to manage services. The Amazon S3 API delivers separate RESTful API using a signature authentication and a SOAP API adhering to the WS-Security standard. The web service provides a complete set of methods for deploying and managing server instance. They provide a wide range of language kits including Java, PHP, Python, Ruby, and .NET Building Blocks: Technology RESTful API SOAP API Documentation / Tools Getting Started Documentation SDK & Code Libraries Pricing Release Notes Terms and Conditions Videos Case Studies Articles Tutorials 3rd Party Tools Use Cases Security Center Support / Management FAQ Blog Status Dashboard Paid Support Support Center Community Forum Events Developer API Registration App Manager Account Information Usage Reports App Gallery Dev Share Partner Service Provider Directory
---
27 October 2010
Amazon EC2 is infrastructure service that provides virtualized servers on-demand with pay-as-you-go pricing. Amazon EC2 began as a web service and later developed a web-based interface to manage services. The Amazon EC2 API delivers separate RESTful API using a signature authentication and a SOAP API adhering to the WS-Security standard. The web service provides a complete set of methods for deploying and managing server instance. Amazon provides a wide range of language kits including Java, PHP, Python, Ruby, and .NET Building Blocks: Technology RESTful API SOAP API Documentation / Tools Getting Started Documentation SDK & Code Libraries Pricing Release Notes Terms and Conditions Videos Case Studies Articles Tutorials 3rd Party Tools Use Cases Security Center Support / Management FAQ Blog Status Dashboard Paid Support Support Center Community Forum Events Developer API Registration App Manager Account Information Usage Reports App Gallery Dev Share (Community Content) Partner Service Provider Directory
---
27 October 2010
I am in New York City this week kicking off my new career as the API Evangelist for Mimeo Connect. Mimeo Connect is the API for the Mimeo Print Platform. Before evangelizing about the API I have to talk about the Mimeo Platform for a bit. I have spent the week learning everything I can about the self-service, next generation print platform. What intrigued me about this job is the unique blend of technology and manufacturing that is involved. The Mimeo team truly does it, they have created a beautiful print document builder, storage and ordering system seamlessly integrated with 3 print facilities in New Jersey, Tennessee, and California. Once signed up for a Mimeo account you can build bound documents, binders, booklets, flyers, brochures, posters and much more...
---
27 October 2010
USA Today is a major newspaper and online media outlet. It provides wide coverage in the following categories News, Travel, Money, Sports, Life, Tech, and Weather. USA Today offers a RESTful API delivering best-selling books and sports salaries data. They provide an application key for authentication and no specific language kits. Building Blocks: Technology RESTful API Documentation / Tools Dashboard Documentation Terms of Use Support / Management Blog Twitter Community Forum Developer API Registration App Manager The USA Today API is delivered on the Mashery API delivery platform.
---
23 October 2010
Holding an API contest is a great way to spur innovation around your API and its community. bit.ly is a popular URL shortening service that offers an API as part of its core software-as-a-service. In January 2009 it held a successful API contest and is looking to do it again with a new bit.ly API contest. The prizes offered:: 1st prize - Makerbot Thing-O-Matic 3D Printer 2nd prize - 1TB USB hard drive enclosed in a vintage nintendo game (Zelda, Metroid, etc) 3rd prize - Set of BuckyBalls magnetic building spheres bit.ly encourages developer to be creative and come up with unexpected uses, but it also plants a few ideas that the company woul'd like to see developers work on. There are a lot of developers that may know about your API, but not actively involved...
---
15 October 2010
LinkedIn has released an API labs to showcase various internal projects using the LinkedIn API. LinkedIn Labs hosts a small set of projects and experimental features built by the employees of LinkedIn. They are published demonstrations and intended to be low-maintenance experiments and may be added and removed over time based on popularity and support. Four projects the Labs showcases are: NewIn - This application shows new members joining LinkedIn from around the world. ChromeIn - Integrate LinkedIn directly into Google Chrome. Easy access to your LinkedIn updates, anytime. Instant Search - A sample application to search LinkedIn, built over the new Linkedin Javascript APIs. Signal - Signal is aimed at making it easy for all professionals to glean the most relevant insights from the never-ending stream of status updates and news...
---
13 October 2010
If you provide an API, one of the things you will want to avoid is having someone's blog post condemning your company for not caring about developers hit the front page of Hacker News. Because even if you are a giant like Facebook, you really cannot afford to have your API be an excruciating experience (although, yes, Facebook can probably afford it more than others). Seth Call recently wrote a blog post called The Facebook API: A Case Study in Not Caring About Developers. And while the post is directed at Facebook, Call's observations about how to (mis)treat your developer community offer important insights that any company should pay attention to. The post lays out several reasons why working with the Facebook API is, in his words, "one of the worst experiences as a developer I have ever had...
---
12 October 2010
Yahoo! Answers is a community-driven question-and-answer (Q&A) site that allows users to both submit questions to be answered and answer questions asked by other users. The site gives members the chance to earn points as a way to encourage participation. The Yahoo! Answers API is a RESTful API using an appID for authentication. It provides a read only API for querying questions individually, by search, category, or by user. Yahoo! provides 12 language kits including Java, PHP, and VB.Net. Building Blocks: Technology RESTful API Documentation / Tools API Reference SDK / Code Libraries Getting Started Rate Limits Terms of Use Support / Management Email List Help Section Community Forum (Yahoo Groups) Developer Registration Account Info
---
12 October 2010
Google Apps recently began supporting OAuth authorization when connecting to the Google Apps API. OAuth will make integration with the Google Apps platform much more secure by not requiring administrators to share their username and password with third party applications. The advantages to using OAuth are: OAuth is more secure: OAuth tokens can be scoped and set to expire by a certain date, making them more secure than using the ClientLogin mechanism. OAuth is customizable: Using OAuth, you can create tokens that scripts may only use to access data of a particular scope when calling Google Apps APIs. For instance, a token set to call the Email Migration API would not be able to use your login credentials to access the Google Apps Provisioning API...
---
12 October 2010
PayPal is an e-commerce business allowing payments and money transfers to be made through the Internet. PayPal serves as an electronic alternative to traditional paper methods such as checks and money orders. Paypal offers a RESTful API using a credential / signature authentication. Paypal provide a read / write API for payment transactions. Paypal includes software development kits (SDK) in PHP, Java, and .NET. Building Blocks: Technology RESTful API Documentation / Tools Dashboard API Reference Express Integration Getting Started How it Works SDK / Code Libraries 3rd Party Tools Mobile Sandbox Buttons Widgets Pricing Certification Tutorials International Case Sudies Videos Support / Management Blog Phone Number Email Change Log Community Forum Developer Account Management App Showcase Paypal provides a large number of tools for its API...
---
12 October 2010
Google Docs is a free, Web-based word processor, spreadsheet, presentation, form, and data storage service from Google. It allows users to create and edit documents online while collaborating in real-time with other users. Google provides a RESTful document list API that uses either AuthSub or oAuth authentication. The API provides read/write methods for adding documents and folders and allows the management of ACL, revisions, and Meta data. Google provides 5 language software development kits including Java, .NET, and PHP. Building Blocks: Technology RESTful API Documentation / Tools Dashboard API Reference SDK / Code Libraries Getting Started Terms of Use Support / Management FAQ Articles Blogs Change Log Issue Tracker Community Forum
---
12 October 2010
Skype is a software application that allows users to make voice calls over the Internet. Calls to other users within the Skype service are free, while calls to both land-line and mobile phones can be made for a fee. Skype provides a Public API that uses a text-based protocol delivered in package that only run on Windows, Linux, and Mac and a command line implementation. With the Skype API you can read / write all the functionality available in the Skype application. Building Blocks: Documentation / Tools Dashboard API Reference SDK / Code Libraries Certification BETA Program Terms of Use Support / Management Blogs Community Forum
---
12 October 2010
Delicious is a social bookmarking web service for storing, sharing, and discovering Web bookmarks. Delicious has a RESTful API, with a HTTP-Auth authentication. Using the API, you can read and write Delicious bookmarks and tags. Delicious provides some PHP Curl scripts for connecting, but no other language kits. Building Blocks: Technology RESTful API Documentation / Tools SDK / Code Libraries Getting Started
---
11 October 2010
Digg is a social news site that allows users to submit and vote up or down news stories published by others. Digg offers a RESTful API, with oAuth authentication. The API gives access to just about all functionality available through the interface, including topics, stories, users, comments and search. Digg provides PHP and Python language libraries allowing developers to quickly consume the API. Building Blocks: Technology REST API oAuth Documentation / Tools API Reference SDK / Code Libraries Authentication Overview Github Support / Management Dashboard Issue Tracker Forum
---
10 October 2010
We share the top API Industry News with you throughout the week in our real-time API Industry RSS Feed. Here are the top stories from the week: Foursquare Outage a Chance to Test for Errors New York Times: Introducing Version 3 of the Campaign Finance API World Bank Opens More Datasets, Challenges Developers to Build Apps O'Reilly Radar: The black market for data LinkedIn Platform: Announcing Early Access to Our New Javascript API & OAuth 2 If you know of any API news that you feel is important feel free to share to [email protected].
---
10 October 2010
Apigee is another player in the API management service provider space. Apigee is similar to 3Scale in helping businesses plan, deploy and manage their API. Apigee provides resources to help you understand best practices, avoid common pitfalls, develop your strategy, and learn to drive your developer community. Apigee breaks down their product offerings into three tiers: Free tools to learn test, and debug APIs. Analytics and rate limiting. Premium tools for advanced rate limiting, key management and unlimited traffic plans. Enterprise tools for API policy framework, scaling solution for both cloud and on-premise options. Apigee seems dedicated a healthy and standards based approach to delivering your API ecosystem with pricing for every budget...
---
10 October 2010
Mashery is an API management service provider that offers an API as a Software as a Service (SaaS). You can leverage Mashery's platform to get an API planned, deployed, and into operation quickly. Mashery makes a pretty compelling buy versus build argument when planning for your API. Mashery provides a wide array of tools in three distinct areas: API Management building blocks like API registration, credential management, usage throttling and business rules. Metrics and Reporting building blocks like API usage, developer activity, systems status, and real-time insights into API operations. Community Management building blocks for blogs, wiki, general content management, change control, and forums...
---
10 October 2010
3Scale provides plug-and-play as well as enterprise level API management services. 3Scale is similar to 3Scale connect is a starter platform with a freemium model for delivering your API. You can deploy at no cost, and pay-as-you-go based upon the volume of calls made on your API. This model is well suited to those who are not sure of their API business model or target audience -- or are just looking to test the waters. 3Scale Enterprise offers unlimited scaling in the clouds and greater control over your API as your demand grows. 3Scale also provides higher levels of support for its enterprise level customers. 3Scale breaks their services down into: API Management API Monitoring & Statistics Developer Community Portal Billing & Payments API Access Provisioning High Quality Customer Support & SLA 3Scale also delivers with its own API to access their management platform, allowing you to seamlessly integrate their platform into your internal systems...
---
09 October 2010
There are a lot of things I weigh when deciding to write about a company: is the product interesting, is the technology innovative, is the company's story compelling. Some days, it's "news" when a very small feature change occurs at a very big company. And some days, it's "news" when very big things are afoot at very small companies. Most days, it's not quite so clear cut as that, and I have to wade through hundreds of email pitches in order to decide which stories to tell. And as I do my research and conduct my product reviews and my phone briefings, one of the things I look for is an API. Although yes, I want to hear that your product has traction. I want to see that customers and investors like you...
---
09 October 2010
The ability to explain your API to developers and potential developers critical to the success of your API. While it's important to be able to explain to potential business partners and customers about the problems your API solves, at the end of the day it is crucial that you be able to provide them with the tools -- and the documentation -- to actually do it. The importance of documentation -- samples, training materials, guides, docs -- can't be understated. Quality documentation and reference material for your Application Programming Interface (API) can be the difference between a developer adopting your API or moving on to another vendor. And yet these can be difficult documents to collect and/or to write...
---
07 October 2010
Online storage and collaboration tool OpenBox Developer area for those working with the API. The developer area offers the following pieces: Introduction to OpenBox Actions Getting Started Guide for API Easy Signup Project Setup Page And Box.net provides several flavors to its API: REST SOAP XML-RPC It also provide ssome some great code samples and libraries in all the top programming languages. There is a list of of all the API functions on the left hand menu, broken down into categories: Authentication File and Folder Operations Sharing Tagging Commenting Download and Upload Box.net supports its API with a developer blog and also provides an email address to contact Box...
---
07 October 2010
Several years ago, Flickr co-founder Caterina Fake coined the phrase "Biz Dev 2.0" in a blog post explaining how several small companies had approached FLickr wanting to provide services that the photo-sharing site didn't feature. She noted that Flickr executives had little time in their schedules to arrange meetings to hash out these partnerships, and instead encouraged companies to "feel free to apply for a Commercial API key and build something off the API." "Biz Dev 2.0," she called it. Fake describes the traditional sorts of business development processes -- "spending a lot of money on dry cleaning, animating your powerpoint, drinking stale coffee in windowless conference rooms and scouring the thesaurus looking for synonyms for "synergy"...
---
07 October 2010
Salesforce is gearing up for the upcoming release of their REST API on October 26, with a REST API Developer Preview Webinar. The release of the a RESTful API for the developerforce platform is a major sign of upcoming growth for the cloud computing platform. REST APIs enjoy lmuch larger acceptance in the developer community compared to SOAP APIs. SOAP is a favorite amongst the enterprise and hard-core development communities, but REST is easier to understand and have lower barriers of entry for more web 2.0 oriented programmers. As cloud computing is gaining acceptance with the masses, and the smoke is clearing around how to actually make the cloud work, SalesForce is making a major move to woo more businesses and developers to their platform...
---
07 October 2010
Scribd is a social publishing site, where people can upload and share their documents. The Scribd API has the following building blocks: API Overview Sign Up for an API Account API Tutorials Client Libraries User Authentication Overview Usage Limits Javascript API Mobile and E-Reader API and SDK Enterprise SDK Help / Support FAQ Scribd provides client libraries in these programming language: Ruby Java PHP C# / .NET ActionScript 3.0 Python Scribd makes it easy to sign up for an API account by providing links in the site navigation and on the home page. Scribd doesn't go the extra yard with a full set of API building blocks, but they provide the essentials needed for a successful development experience...
---
06 October 2010
One of the keys to YouTube's success as a video sharing platform is its successful API that allows developers and site owners to embed, share and distribute YouTube content across the Intertubes. As with many of its other products, Google starts with the essential API ecosystem building blocks: Dashboard Quickstart Docs Sample Code Forum Articles Blog In addition, YouTube really support its partner and developers with: Partners Showcase App Gallery Widgets White Label Player Google also enforces brand integrity with a few tools: Branding Guidelines Compatibility Terms Google definitely has a solid formula for replicating its API ecosystems in its different products, and the YouTube developer area is an excellent example of this formula being applied to a media API...
---
06 October 2010
As a journalist, I get a lot of pitches from startups trying to convince me to write about their product or service. And I also attend a lot of pitch events, where entrepreneurs try to convince a panel of judges (typically investors) to write them a check. Often there are a lot of missing pieces in these pitches -- no compelling technology, no compelling market, no compelling story, and most damning, no actual product. Sure. You can have slides. You can boast about how awesome your product will be. You can talk, talk, talk. Or, you can actually show it off, show how it works. And I do mean, literally, how it works, by coding your way through a demo. And this is what John Britton, Twilio's developer evangelist, does in this video, taken at a NY Tech Meetup...
---
06 October 2010
The Flickr provides a way for new tools to be built and for Flickr content to be uploaded or shared. Flickr offers a solid API with very traditional building blocks: API Overview Account Manager App Manager API / SDK Kits Email Listserve Recently Flickr evolved its API area (App Garden) and took a more ecosystem approach by creating code.flickr.com by bringing together several old and new building blocks: Dashboard Forums (3 separate forums: API Forum, Hacking Uploadr, and Yahoo Forum) Developer Feature Developer Blog Jobs Listing (For Flickr, not for ecoystem) Flickr's API is a solid example of a simple, yet successful RESTful approach to an API. A very early mover in building an API, Flickr's offerings may be missing many of the more sophisticated API building blocks we are seeing with the new generation of APIs...
---
06 October 2010
Change happens. With technology, change seems to be accelerating, or at least the waves of change seem to come more frequently. I feel I've developed a certain rhythm for riding these waves. Part of this rhythm is a regular evaluation of where I stand, a sort of agile career methodology. I'm in one of those evaluation periods right now. What wave is next? In January 2007 I found myself jumping on the social media wave, in which I still ride to some degree. In Spring of 2008 I found myself jumping on the cloud computing wave, in which I'm still totally drowning in. What wave is next? Mobile? Big Data? Semantics? There are many things I consider when evaluating what I will focus my attention on...
---
25 September 2010
Application Programming Interfaces (API) are a driving the Internet and our economy. They drive our online experience: Developers rely on API for key data and functionality in their applications Businesses exchange data and services using API Media and press are using them for real-time analysis API's come in many flavors: XML-RPC, SOAP, and REST, although REST is king when it comes to next generation of web applications. In 2000 businesses were still working to understand the importance of having a web site. In 2010 businesses are now faced with the growing importance of their API. If you don't already have an API developed in-house you need to talk with Mashery or 3Scale. If you have an API, but need to take it to the next level...
---